Superior Winnetka Plumber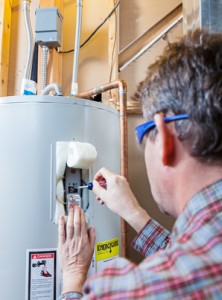 The next time you have plumbing problems call the professionals at VR Plumbing. We are Winnetka's most trusted plumbing company. We pride ourselves in providing the highest level of customer service anywhere in the San Fernando Valley area. Water leaks can cause serious damage to your homes. So don't wait another minute. Let our skilled Winnetka Plumber will get your plumbing restored and minimize the damage. We provide a wide array of products and services for both residential and commercial properties. So whether you're a small homeowner or business owner with a multi-level office, we can do the job in a manner that is efficient, dependable, and stays within your budget.
Re-piping Services for Your Home or Office
If you own property that is over 40 years old, then you may want to consider upgrading your plumbing. Although plumbing is designed to last for decades, it will wear out eventually. This can be caused by age, corrosion, damage, or sever blockage. We offer complete re-piping throughout your entire home or office. Our Winnetka Plumber can assess your current plumbing network, and then begin to rebuild your system from the ground all the way to the top floor. When the job is done you have brand new pipes that will last a lifetime. Take advantage of our service today and upgrade your plumbing.
Complete Sewer & Drain Cleaning
Over time, you sewers and drains will get backed up and clogged. When this happens it's best to call a professional to do the job. Home remedies provide short-term solutions but don't really solve the problems. When you contact us, we visit your home or business and perform an on-site inspection of your entire system. Once the problem is located, we then go to work to give your sewer and drain pipes full treatment. We clear all debris and then clean the inner walls of your plumbing in order to restore your pipes. When you sewer gets backed up call the professionals at VR Plumbing
Water Heater Repairs & Installation
One of the most important components in your home is your water heater. When it breaks down your hot water immediately disappears. There are numerous problems that can go wrong with your water heater from sediment to a damaged tank, broken pipeline, or the element going bad. Our Winnetka Plumber works on all types of water heaters both old and new. In some cases, small repairs or maintenance may be necessary. If you have an older water heater, however, we can help you replace it with a brand new efficient water heater. Depend on us to help you get your water heater running again.
Is Your Garbage Disposals Jammed?
Even the toughest garbage disposals need maintenance and repairs from time to time. Is your garbage disposal jammed or blocked up? We do complete inspection of garbage disposals in order to get yours running again. Our expertise ranges from brand new garbage disposal installation to repairs, and full system replacement. Trying to fix your garbage disposal yourself can be hazardous with devastating results. When you hire a professional to take care of your garbage disposal, however, you can feel confident that the job will be done safely without any harm to our Winnetka Plumbers.
What Our Winnetka Customers Are Saying About Us
VR Plumbing appreciates your feedback. Please give us more time to collect your reviews and they will be displayed below.
---
If you are looking for an Winnetka Plumber, then please call 818-426-2826 or complete our request form.