Incredible Los Angeles Lawn Sprinkler Installation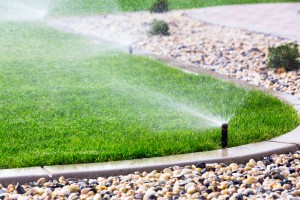 Lawn sprinkler installation or repair is part of a well thought-out landscape design. Maybe you've recently bought a new home or are having one built; whichever the case, you can count on a professional installation from VR Plumbing. Our Los Angeles plumbers are committed to providing you with expert advice and customer service that is unbeatable by today's standards. No more dragging out that cheap sprinkler that only waters part of your grass.
Sprinkler Repairs
If you have any issues with your lawn sprinkler system – leaking sprinkler and valves, broken pipes, problems with controllers and timers, etc. – we can repair or replace them promptly and properly.
Improper Lawn Sprinkler Installation
Going the "DIY" route might seem like it will make the job a lot less expensive but don't forget to factor in the expense of dead lawns that can result from improper installations.
Placement
A sprinkler placement should be determined by experienced professional familiar with both landscape architecture and the plumbing necessary to get the job done.   This means areas where new shrubs, trees and bushes have been planted are great locations for a system. Your system will be separated into different zones, in order to cover whole area of your Los Angeles home.
Layout
Zones for a sprinkler are strategically placed throughout the property. Our developers will draw up a layout for your property that best fits your needs. From the layout, we can decide the following:
Size of sprinkler heads
Proper pipe sizes
Location
Type
Number of units
Drainage
Many homeowners are not concerned about their yard drainage but when it comes down to removing access water from the lawn, caused by a sprinkler, many act quickly to avoid that water coming into their homes. This is why it's important to have a drainage system that works with the contour of your yard.
Improved Lawn Care
With a professional grade sprinkler system, you're actually saving yourself a lot of money per year. You'll save more money because the system is on a timer and won't waste much water. You'll also save by having a lawn with less maintenance.
Reasons to Have Sprinkler System Installed
All of the hard work that you put into your lawn requires maintenance and up-keep. A sprinkler system will regularly water the newly planted trees, shrubbery and bushes that make up your beautifully landscaped lawn. Here are several reasons why you need a professional sprinkler system:
Conserves water
Coverage to all the property
Saves time
When you decide that you need a better lawn, call VR Plumbing for a lawn sprinkler installation. We'll get your lawn ready for spring and your flowers up and blooming again. Save money and time by calling us.
Recent Articles
Los Angeles Homeowners Should Call Professionals to Clear Clogged Drains

When there are clogged drains in your Los Angeles home, you and your family suffer needless inconvenience. In order to easily accomplish your most important everyday tasks, it is imperative that you and your family have the most reliable, efficient, and functional plumbing system possible.The professional plumbers at VR Plumbing provide drain cleaning services to…

Read More

The importance of Plumbing Inspections

When it comes to the home, you count on your plumbing to keep the water flowing through your fixtures and a reputable plumbing company to provide you with a plumbing inspection. This is the best way to keep your plumbing from giving you problems.Just because a reputable plumbing company had installed your fixtures doesn't mean…

Read More

If you are looking for a Los Angeles Lawn Sprinkler Installation expert then please call 818-426-2826 or complete our online request form.