Fantastic Sewer Line Camera Inspection in Los Angeles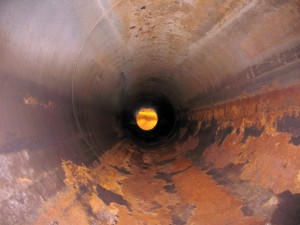 Are you looking to cut down on maintenance costs? Almost every homeowner will experience a drain or sewer back-up at some point in their lives. As you pipes age, chances of these problems occurring increase. Call VR Plumbing for a sewer line camera inspection. It is one of the easiest ways to locate any obstructions and save you money. Call today to schedule one in your home and live more safely & comfortably.
Process
Professional plumbers use a small, maneuverable  camera to assess the integrity and structural condition or the sewer and drains.
Indications of Sewer & Drain Issues
Everything from tree roots to grease build-up can back your drains up causing them to be non-operational. The following are signs of a sewer & drain issue:
Foul odors
Unusual lawn growth
Foul Odors
Foul odors are caused by vents that will only permit outgoing airflow. Whenever the water in your drains evaporates, the odor travels with it. If you have a broken pipe or one that is not vented, outdoor air could force odors into your San Fernando Valley home.
Identification
Inspecting of your sewer lines can help locate cracked and/or deteriorated pipes. A sewer line inspection can also locate any leaking joints in the pipes or tree rots that may be hindering your sewer. Blocking debris can be found and removed through hydro jetting.
Hydro Jetting
Hydro jetting is one method of removing clogs from the sewer & drains. Similar to pressure washing, hydro jetting incorporates heavy thrusts of water that safely remove anything that is blocking it. Hydro jetting is:
Sewer Problems
Before buying an older home, it is wise to hire a Los Angeles plumber for an inspection to the sewer. All too often, new homeowners suddenly discover plumbing problems that require excavating and other costly repairs.
Saving Money
The main idea behind an inspection is to save money. A thorough inspection could literally save you hundreds if not thousands of dollars per year. Replacing older lines can be costly. You can save more money by calling VR Plumbing.
For cost-effective sewer line camera inspection, schedule yours today. ignoring a minor clog to could later lead to an unsanitary sewage back up.
Recent Articles
How Sewer & Drain Cleaning Can Help Make Plumbing Problems Go Away

 Over the course of time, it's more than likely that your drains will become clogged. Innovations in plumbing have made t possible for those nasty clogs to go away. Drain cleaning specialists use powerful tools for sewer & drain cleaning. Jetting can tackle even the toughest clog.Jetting has become a popular choice because it's safe…

Read More

The importance of Plumbing Inspections

When it comes to the home, you count on your plumbing to keep the water flowing through your fixtures and a reputable plumbing company to provide you with a plumbing inspection. This is the best way to keep your plumbing from giving you problems.Just because a reputable plumbing company had installed your fixtures doesn't mean…

Read More

If you are looking for a Sewer Line Camera Inspection in Los Angeles then please call 818-426-2826 or complete our online request form.