Incredible Woodland Hills Drain Cleaning Company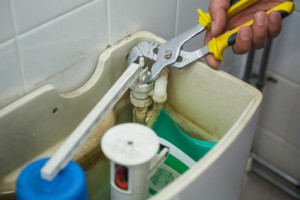 You have nothing to lose by calling the local plumbers at VR Plumbing. The way we see it is that it's a win-win situation for you and also your family as you won't have to be frustrated every time the toilet gets backed-up. By calling in professional plumbing techs, you're getting professional installations and repairs you deserve.
For a modern plumbing upgrade to your faucets or shower, you can bet that we can install them for you. New faucets and shower units handle better than the ones that were installed in the original plumbing. They'll also look better too!
There are so many faucets on the plumbing market today that the choices can be overwhelming. Touchless faucets are just one of the many that are available for residential California homes. With a touchless faucet, there is no turning them on or off with dirty hands.
We can make sure that your faucets are worth the investment. We install all major brands and our plumbers are usually available as soon as you call. Set up an appointment with us today.
Areas of the home that could benefit from new faucets:
Woodland Hills Plumber
The bathroom is a very vital room of the home. It is one of the most commonly used rooms of the home. Components to be repaired in the bathroom:
Toilets
Showers
Leaking faucets
Water conservation
Water conservation is something that our Woodland Hills Drain Cleaning plumbers are dedicated to providing. We offer advanced, water-saving products to replace those old plumbing products in the bathroom or kitchen. Whenever there is no more need for costly repairs, you have achieved plumbing Nirvana!
Woodland Hills Drain Cleaning
Your kitchen's drains are more vulnerable to getting clogged more so than other drains such as the bathroom. Many of today's plumbing problems can be resolved through Woodland Hills Drain Cleaning. We get lots of calls concerning clogs as they can be very frustrating to clear. Hydro jetting is an easy and effective way to cut through tough clogs and keep your drains clear.
Our professional plumbing services can help eliminate this from happening through our plumbing services. We use jets of hot water to deliver a powerful punch to those challenging clogs.
If you are in need of plumbing tech in Woodland Hills that will attend to your drains in a hurry, contact VR Plumbing. We can help by instantly reacting to your plumbing problems!
What Our Woodland Hills Customers Are Saying About Us
VR Plumbing is rated 5 /5 based on these 1 happy customer reviews
---
I'm very happy with the result.

---



If you are looking for a Woodland Hills Drain Cleaning expert, please call VR Plumbing at 818-426-2826 or complete our

 online request form.