Magnificent Los Angeles Ice Maker Line Installation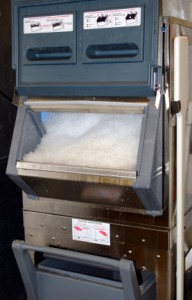 It may seem innocent to you that there is no ice coming out of the dispenser of the refrigerator or that no ice is available at your favorite restaurant. It may not be as innocent as you might think as there could be a problems that's hidden within the ice maker lines. These lines may not seem much to the average person, but when you want a cold drink and don't have access to ice, life can be very frustrating. Call VR Plumbing when your ice machine stops working. Our Los Angeles plumbers can repair or replace your lines in no time at all.
Flooding
Home or business owners that have suffered through a flood, due to damaged lines, are more prone to call a plumber if it happens again. One would think that only minimal damage is accrued through small plumbing lines but the water can end up doing a lot of damage.
Types of leaks
A line that leads to the ice maker, either for the home or restaurant, can suffer from different leak issues. There are two main types of leaks to be aware of:
Slow Leaks
A slow leak in your Los Angeles property can be very disconcerting. A slow leak can cover your entire kitchen in water in no time and make sanitary conditions become unsafe. A slow leak can also develop into microbial growth that can make it ten times harder to deal with.
Steady Spray
A steady spray needs to be dealt with immediately. Immediate attention to the lines will help prevent it from getting worse and to eliminate the system from needing replaced. Sprays can also promote flooding, especially if no one is home or it happens overnight.
Mold Development
A refrigerator is normally located in an area of the kitchen which poses a wall behind it. Sprays and small leaks can get into the walls and start to sprout mold growth. Mold growth can be very harmful to one's health and not sanitary to the kitchen.
Signs of Damaged Lines
One sign of a bad or damaged line is that there are no ice cubes coming out of the dispenser. If you go to push the button and hear nothing but air coming through, it means that your line is damaged and needs to be repaired quickly. The following are signs of a damaged plumbing line:
Hissing noise
Small flooding
Mold growth
If you are in need of repairs to your ice maker lines, call VR Plumbing. We'll make sure that you have ice cubes for the family or even your customers every day! Schedule your repair or replacement today.
Recent Articles
How Sewer & Drain Cleaning Can Help Make Plumbing Problems Go Away

 Over the course of time, it's more than likely that your drains will become clogged. Innovations in plumbing have made t possible for those nasty clogs to go away. Drain cleaning specialists use powerful tools for sewer & drain cleaning. Jetting can tackle even the toughest clog.Jetting has become a popular choice because it's safe…

Read More

The importance of Plumbing Inspections

When it comes to the home, you count on your plumbing to keep the water flowing through your fixtures and a reputable plumbing company to provide you with a plumbing inspection. This is the best way to keep your plumbing from giving you problems.Just because a reputable plumbing company had installed your fixtures doesn't mean…

Read More

If you are looking for a Los Angeles Ice Maker Line expert then please call 818-426-2826 or complete our online request form.