Amazing Los Angeles Plumbing Fixtures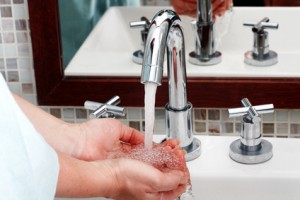 If you are have issues with your your plumbing fixtures and need to have them repaired or want a new faucet or sink to make your bathroom or kitchen more efficient, functional or stylish we can help. VR Plumbing offers professional plumbing services in San Fernando Valley and surrounding areas. These are just a few of the services that our highly trained, licensed and insured technicians are prepared to handle for you.
Leaky Faucet
That incessant dripping from your bathroom faucet is doing more than just disrupting your good night's sleep. Though the drip may seem small, it can actually waste up to 20 gallons of water each day, which can run your water bill up in a hurry. A leak that isn't repaired may even damage the sink over time. It can cause unsightly stains and may even lead to the need for a complete sink replacement. A faucet may also leak internally, and this is easy to miss until you start noticing water damage on the floor. At VR Plumbing, we can correctly assess the situation and effectively repair or replace the leaking faucet.
Low Water Pressure
When you can't get enough water out of your faucet to even properly wash your hands, you should expect a problem with low water pressure. Several problems can occur that leave your plumbing fixtures with nothing but a slow trickle. It may only be a simple problem such as a blockage to the faucet itself or a problem with a shut-off valve. It could also be the result of a much more serious problem such as serious water leaks or major blockages in the pipes. Don't go without the water you need. VR Plumbing can find the problem and fix it today.
Damaged Sink Repair and Replacement
Any type of sink can develop problems such as cracks, leaks and clogs. Damaged pipes, valves and drain mechanisms are sometimes the reason behind a leak when you don't see an obvious source such as a crack or an actual hole in the sink. Simple clogs may be cleared with the use of a plumbing snake, but more serious clogs may require disassembling the drain pipes to effectively remove the clog. VR Plumbing can fix any of these problems or replace your sink when needed with a stainless steel, composite, cast iron, porcelain, natural stone or other sink basin of your choice.
Remodeling Services
You don't have to be experiencing a plumbing problem to update your bathroom or kitchen. Brand new faucets, a different type of sink basin and an attractive vanity can make your rooms look like they've been completely remodeled without having to spend a bundle. VR Plumbing is available to assist with any of these types of remodeling needs.

If you having plumbing fixtures issues, then don't hesitate to contact VR Plumbing at 818-426-2826. Our Los Angeles plumbers provide each customer with a free estimate and exact upfront pricing.
Recent Articles
Los Angeles Homeowners Should Call Professionals to Clear Clogged Drains

When there are clogged drains in your Los Angeles home, you and your family suffer needless inconvenience. In order to easily accomplish your most important everyday tasks, it is imperative that you and your family have the most reliable, efficient, and functional plumbing system possible.The professional plumbers at VR Plumbing provide drain cleaning services to…

Read More

How Sewer & Drain Cleaning Can Help Make Plumbing Problems Go Away

 Over the course of time, it's more than likely that your drains will become clogged. Innovations in plumbing have made t possible for those nasty clogs to go away. Drain cleaning specialists use powerful tools for sewer & drain cleaning. Jetting can tackle even the toughest clog.Jetting has become a popular choice because it's safe…

Read More

If you are looking to have new Los Angeles Plumbing Fixtures installed by a professional, then please call 818-426-2826 or complete our online request form.