Superior Los Angeles Water Lines and Gas Lines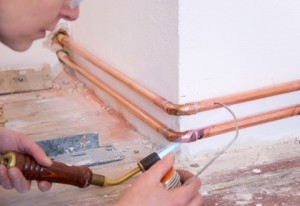 When you are remodeling the home, there may be plumbing components that need to be installed. Many homeowners normally try and tackle these problems on their own but often end up causing additional issues that result in hiring a Los Angeles plumber for a larger project than originally intended. If you are looking to remodel your bathroom or kitchen and need gas or water line installations, call VR Plumbing. Even the most competent of DIYer can mess up a remodeling job.
Water Lines
When building or remodeling a home; correct installation of the plumbing is critical the the ongoing building process. Water lines are needed to come through in such plumbing appliances as the water tank and faucets.
Gas Lines 
Gas is a clean and efficient fuel source.  Areas of the home that gas can be incorporated to are the kitchen (stove), furnace, and outdoor built-in grilles. Gas can be very dangerous if the lines are not professionally installed. Utilizing your properly licensed plumber you can save time and money by installing your water and gas lines at the some time.
Importance of Lines
Advances in today's plumbing lines are offering newer ways to incorporate gas and complex plumbing in Los Angeles. Although we don't give much thought to the plumbing lines, they are very important to the operation of the rest of the home.
Heating & Cooking
Without gas or water, there would be no way to cook our foods, clean ourselves or do laundry. Life would be very uncomfortable. That's why these lines need to be incorporated by someone who possesses enough skills and talents to provide our homes with.
Advantages
There are plenty of advantages to using a professional plumber. Plumbing is not easy work as it takes skills and education to perform many jobs such as the installation of plumbing lines in regards to the gas and water. When you hire VR Plumbing for the job, you'll experience the following benefits:
Faster service
Complex problems solved easily
Knowledgeable craftsmen
Hot Water Heaters
A hot water heater is a prime example of the utilization of both gas and water. A water tank stores and heats water for household usage. Sometimes service calls are needed for the tanks as they age and do not operate as they once had.
Venting
Gas needs to be vented or it can lead to major problems such as explosions. A gas problem should be taken care of by a licensed professional. If you are in need of an installation or repair to your lines, call VR Plumbing for proper venting.
Gas & water lines are important to any home project. They need to be installed by someone or some company that knows the regulations for proper installations. We are the plumber that can offer you this and a whole lot more.
Recent Articles
Tankless Water Heaters : Why Should You?

Whether you are in the process of building a new home or renovating the one you already have, it's time that you (re)evaluate the water system. It's true that almost as much as 30% of the home's energy budget is consumed by the water heater.Traditional units heat water continuously in a tank. The water is…

Read More

Los Angeles Homeowners Should Call Professionals to Clear Clogged Drains

When there are clogged drains in your Los Angeles home, you and your family suffer needless inconvenience. In order to easily accomplish your most important everyday tasks, it is imperative that you and your family have the most reliable, efficient, and functional plumbing system possible.The professional plumbers at VR Plumbing provide drain cleaning services to…

Read More

If you are looking for a Los Angeles Water Lines or Gas Lines Expert, then please call 818-426-2826 or complete our online request form.