Los Angeles Water Heater Services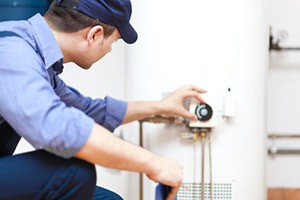 Water heaters are one of the most commonly used plumbing appliances in the household. Call VR Plumbing when your Los Angeles water heater breaks down on you. We have the means to repair or replace it. You depend on your water heater to deliver hot water when you need it, so you would want a competent plumbing company to do the repair or installation of your water heater
Types of Water Heaters
The primary function of a water tank is to store water. When the water is stored, it eventually heats up in the tank and is delivered through your spigots and faucets throughout the home. There are several types of tanks that can deliver this type of service:
Traditional Systems
In a traditional water heater system, it utilizes an insulated tank in order to store the water. Fuel sources such as gas or electricity are used to maintain the contents of the tank at a constant temperature.
Solar Heating Systems
This type of system incorporates solar energy to warm up the water. The water is stored in strongly insulated tanks and delivered when you need it. These systems are great at lowering energy costs and helping to become less dependent on fuel sources.
Tankless Systems
These systems are very efficient thanks to technology. They do not use a tank as they are equipped with the ability to heat water quickly in Los Angeles. With a tankless system, you'll experience the following benefits:
More space
Hot water on-demand
Save money on energy bills
Electric vs. Gas
Along with the HVAC system(s) in the house, the water heater commonly comes in either electric or gas types.
Electric heats water more efficiently whereas gas water heater saves you more money over time and is faster . With tankless electric or gas water heaters, there is no down time for the water to heat up when it comes to taking a bath or doing dishes.
Replacing
Your hot water heater tank may start to show signs of degradation. If your water heater tank is currently showing rust around the perimeters or it's leaking, then call VR Plumbing. We can come out and safely remove and replace your unit.
Call for more details on how we service hot water heaters. Our Los Angeles plumbers mean business when they say we'll be right out. Call for a free estimate today.
Recent Articles
Tankless Water Heaters : Why Should You?

Whether you are in the process of building a new home or renovating the one you already have, it's time that you (re)evaluate the water system. It's true that almost as much as 30% of the home's energy budget is consumed by the water heater.Traditional units heat water continuously in a tank. The water is…

Read More

If you are looking for a Los Angeles Water Heaters expert then please call 818-426-2826 or complete our online request form.