Professional Newhall Plumber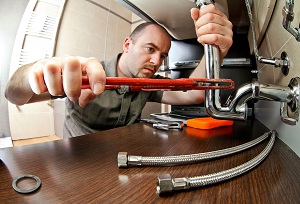 At VR Plumbing, our goal is to provide the Newhall, CA area with the highest quality commercial and residential plumbing services. We understand that you rely on your plumbing system every day. We want you to know that you can trust us with all of your plumbing installation, maintenance, and repair needs.
Call VR Plumbing today if you need to hire a professional Newhall plumber. Our staff is here to assist you in any way that we can. We would be excited to schedule your appointment today.
Expert Newhall Plumbers Installing and Repairing Water Heaters
One of the most critical features of your plumbing system is the hot water it provides. You and your family rely on your Newhall water heater for you most important everyday tasks. If your water heater is broken or unreliable, it can make getting ready in the morning almost unbearable. Without hot water, you and your family suffer needlessly.
At VR Plumbing, our Newhall plumbers have the ability to address all of your hot water related needs. We expertly install both traditional and tankless water heating systems. Depending on your unique hot water needs and the layout of your property, either of these systems could be best for you. With our expert advice, you can be certain that you made the right choice for your family. Our professional plumbers can properly maintain these systems throughout their service lives. If you ever have a problem with you water heater, our Newhall plumbers can help.
Commercial Plumbing Contractors in Newhall
In addition to providing a wide range of residential plumbing services, our plumbers have the ability to provide for all of your Newhall commercial plumbing needs. At VR Plumbing, our plumbing contractors believe that every commercial property deserves to have a plumbing system that is customized specifically to maximize the productivity of the business.
In our commercial plumbing services, our professionals strive to form long-term relationships with our customers. In this way, you can always know who to trust with all of your commercial plumbing needs. If you ever have a commercial plumbing emergency, our contractors will respond immediately. We guarantee that you and your business will be better off when you trust us with your commercial plumbing projects and repairs.
Plumbing Fixture and Appliance Installation and Repair
At VR Plumbing, our Newhall contractors can install, maintain, repair, and replace any plumbing fixture or appliance. We specialize in installing tubs, sinks, faucets, showers, and toilets. Our plumbers have an immense amount of experience installing dishwashers, garbage disposals, lawn sprinklers, water softeners, water filtration systems, and more.
If you have a plumbing appliance or fixture that you are interested in installing, our contractors can help ensure that it is installed in the most expert fashion. If something attached to your plumbing system breaks down, our plumbing repair experts can fix it.
What Our Newhall Customers Are Saying About Us
VR Plumbing appreciates your feedback. Please give us more time to collect your reviews and they will be displayed below.
---
If you are looking for a Newhall plumber then please call 818-426-2826 or complete ouronline request form.