Superb Los Angeles Plumber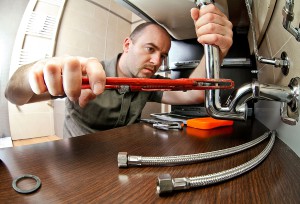 At VR Plumbing, our Los Angeles Plumbers are here to provide premier plumbing services to the area. We strive to maximize each and every customer's satisfaction in every task we undertake. We guarantee high quality plumbing services to both our residential and commercial clients. We know that your home or business depends on a reliable and efficient plumbing system, and we seek to provide that for you by putting our best effort forward each and every time.
Our plumbing contractors are humbled by the fact that Los Angeles residents trust us with their most crucial residential and commercial utility systems. We honor that trust by performing all of our plumbing services as if we are conducting the task on our own homes or business properties.
Our Los Angeles plumbers are all highly professional and extensively experienced. Our contractors maintain all professional licensing requirements. We are fully insured and bonded. We have the experience and skill to accomplish any plumbing task.
Call VR Plumbing today with all of your commercial and residential plumbing needs. We are always happy to discuss how our services can benefit your Los Angeles property, and we will gladly set up your appointment today.
Los Angeles Plumbing Installations
Your family and your business rely on your plumbing system in order to maintain the quality of life and productivity that they have come to expect and deserve. Recognizing this fact, it is always beneficial to consider how augmentations to your plumbing system can increase the utility of your Los Angeles property.
One way to increase the utility and value of your Los Angeles property is to add plumbing fixtures and appliances that better suit your needs. Our expert plumbers are experienced at a wide range of installations including the following systems:
Water Softeners & Filters

Water Heaters

Faucets & Sinks

Toilets, Tubs, & Showers

Water Heaters

Garbage Disposals

Lawn Sprinklers

Sump pumps

And more
Los Angeles Plumbing Repairs and Inspections
Our experienced plumbers have the ability to maintain and repair any of the above plumbing fixtures and appliances. In addition, we have the expertise to handle all of your interior and underground plumbing repair needs.
In our plumbing repair and diagnostic services, we are always focused on using the most advanced methods in order to provide you with the best services possible. As such, we specialize in advanced methods like sewer line camera inspection and trenchless pipe repair.
In order to maximize the efficiency and reliability of your Los Angeles plumbing system, it is important to identify problems early on. In this effort our Los Angeles Plumbers proudly provide routine plumbing inspection and maintenance services. We have the skill and knowledge to quickly diagnose the source of your plumbing issues and to perform routine maintenance before any situation is exacerbated.
What Our Los Angeles Customers Are Saying About Us
VR Plumbing appreciates your feedback. Please give us more time to collect your reviews and they will be displayed below.
---
If you are in need of a quality Los Angeles Plumber, call VR Plumbing at 818-426-2826, or fill out our online request form today.